Basically, when we're talking Rockabilly Guitar you've got 3 brands to choose from; Gretsch , Gibson and Fender. I'm mainly playing an Epiphone* so what do I know? No, but the truth is a little more complicated.
What makes out a guitar is first and foremost the pickup's and the fingerboard . When you check almost all the guitars (except Fenders who have their own pickups) on this page you'll see that they have either DeArmond/Dynasonic, FilterTron or P-90 pickups.
Seeing that 90 % of the rockabilly sound comes from having one of these pickups and a Bigsby vibrato on your guitar it doesn't really matter all that much what the guitar itself is.
For instance, many cheap vintage guitars out there who just happen to have DeArmonds on them might have just the sound you're looking for. Also, DeArmond made some cheap guitars of their own that sound pretty good.
*Epiphone is a daughter company of Gibson. Epiphone guitars are close in quality to Gibsons but at a much lower price.
Alternatives:
If you don't like paying for the name, the legend or the looks of the high profiled guitars here are some good and cheap alternatives. Only some of these guitars are in production at the moment, but all guitars are relatively new and easy to find on eBay for instance...
Epiphone Les Paul 1956 GoldTop
Comes with a pair of Alnico V (the magnets) P-90 pickups. This will get you very close to the classic Carl Perkins sound for only $499.
Epiphone Emperor Swingster
New from Epiphone and a popularwith the rockabilly crowd. Epiphone quality and a licensed Bigsby. Around $700.
Epiphone Zephyr Blues Deluxe (Out of production)
A quality guitar based on the 1949 Gibson ES-5. Three Alnico V P-90 pick-ups. Out-of-production (Only just). Sells on eBay for around $600-700.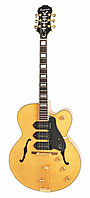 Epi. Zephyr
Blues Deluxe
Epiphone Wildkat
Again, Alnico V P-90 pickups and a Bigsby vibrato. A real bargain at only $299.
Epiphone ES-295
Also with a pair of Alnico V P-90 pickups and a Bigsby vibrato. Sells for $749. Based on the Gibson ES-295 introduced in 1952
Carlo Robelli ES-500* (Out of production)
A good (I'm told) copy of the original 1949 Gibson ES-5 (Not the ES-5 Switchmaster introduced in 1955). Comes with three black P-90 dog-ear style pickups and a Bigsby style vibrato. Real value at $599!
Peavey Rockingham
Made to look like the Gretsch 6120 (It doesn't really). Designed in co-operation with UK guitarist/singer and Eddie Cochran expert Darrel Higham. Comes with or without a real Bigsby B-6. The pick ups are their own design (FilterTron'ish) but usable none the less. The basic guitar is of good quality (Much higher than the Ibanez Artcore series which I wouldn't recommend) and outstanding at value at £299 and £399 for the Tremolo (Bigsby B6) version. I talked to Darrel Higham about the Rockingham and one of the things he said was: "My advice to anyone thinking of buying one is to think of the guitar as a blank canvas, and to add their own pick-ups, etc. As it is so inexpensive, you can customise the guitar to your hearts content and finish it off to your own personal specifications." I don't think this guitar is available in the USA.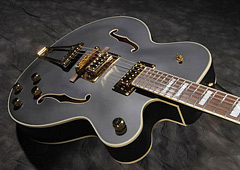 Gretsch G5191BK Tim Armstrong
"Signature" Electromatic® Hollow Body
is one of the new
Gretsch Electromatics
Here are three more alternatives (all out of production) - NOT CHEAP though... Guild X160 Rockabilly
Has a pair of great sounding DeArmond 2000 pickups and a Bigsby. (In their marketing it sometimes says they're DeArmond 2ks but that's wrong according to Bill Turner who designed both).
Guild X500T - X550P Dave Gonzales Signature
Developed in collaboration with Dave Gonzalez of The Paladins.
Comes with two Black Seymour Duncan ® P90s and a gold Guild Bigsby ® tremolo. Very expensive!
Guild forum: LetsTalkGuild.com
If you're in doubt about buying a "cheap" guitar or any guitar as a matter of fact, I suggest you check out Guitar Users Reviews at Harmony Central. You can find reviews on just about any guitar, amp, pickup or effect there, new or vintage.
*Carlo Robelli guitars are built in Korea for the Sam Ash Music Corporation, NY, USA. According to many reviews the quality equals that of American made guitars.
Gretsch:
As far as playing rockabilly on them I'm not impressed with the first reissues. Their shape and construction has little to do with the vintage ones they are supposed to be replicas of, the overall quality is poor but most importantly the sound is nothing to brag about, although not useless.
The problem is mainly that the FilterTron pickups on those are too 'muddy'/'one-dimensional' sounding while at the same time having 'ice picky' highs. Up through the 90s Gretsch used ceramic magnets in the FilterTron's rather than the Alnico magnets they used in the vintage ones.
Luckily that's in the past now as all stock FilterTron-equipped models after 5/03 have Alnico magnets, which is just one of the many improvements after Fender took over Gretsch manufactoring in January 2003.
It's still not the pickup I'd pick for rockabilly though.
I would either get DynaSonic (DeArmond) or TV Jones FilterTrons (Classic) pickups (Most people agree that they sound better than ANY of the reissue FilterTrons from Gretsch). You can get both stock on new Gretsches today.
It's important to remember that Gretsch used DeArmound pickups (which are single-coil as opposed to the FilterTrons which are Humbuckers) in the mid-fifties and that's where the legendary Gretsch Rockabilly sound originated from.
The guys who utilized that sound were such greats as Cliff Gallup (of Gene Vincent and the Blue Caps) who played a black 1955 Gretsch 6128 Duo Jet, Eddie Cochran, who played a 1955 Gretsch 6120 Hollow Body (he did however, change the neck/rhythm pickup to a P-90 from an old Gibson guitar because he found it too bright, and wanted to have the option of a mellow sound at "the flick of a switch") and Duane Eddy who played a 1957 Gretsch 6120 Hollow Body.
The only rockabilly who really made the original FilterTron sound famous was/is Brian Setzer, but hey! What a sound! Jim Heat of Reverend Horton Heat is also known for playing FilterTrons and has his own Gretsch 6120 Signature guitar.
So the original FilterTrons or the new "Fender-Gretsch" FilterTrons (not the Hi-Lo Trons which most people, including me, think sounds too thin) or the TV Jones FilterTrons are also great pickups for rockabilly, but the standard 90s Gretsch FilterTrons are a little tame. They ARE usable nonetheless.

Buying a Gretsch today: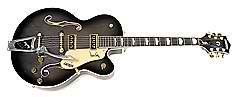 Gretsch 6120 Duane Eddy 1998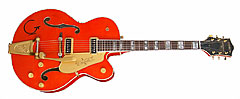 Gretsch 6120WCST Custom Shop 2005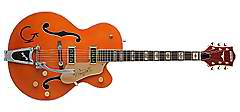 Gretsch 6120DSW Nashville Western 2005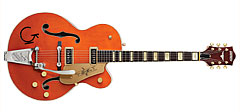 Gretsch G6120DSW
Chet Atkins Hollow Body 2008
If I were to buy a Gretsch today I would pick something like the Duane Eddy signature model* (Produced from about '97-'98) with DeArmonds (DynaSonic), the new Duane Eddy model or something as close as possible to the 1955 6120 Chet Atkins "G-brand".
Here's a list with the top-of-the-line (read:TOP$) choice first:
The original vintage 1955 G-brand of course. It can cost you anything from $6,500-15,000. It's not necessarily a better choice than the next one.
The Gretsch 6120 WCST Nashville Western, hand crafted in Fender's Custom Shop in Corona, California, USA. Features all the "right" appointments like the golden fixed bigsby. Interestingly enough it has Seymour Duncan DynaSonics and not Fender/Gretsch's own like you see them on the G6120DSW. That says something about the Seymour Duncan DynaSonic I guess. It'll probably "only" cost you between $4,000-5,500 even though it has a sugg. retail price at $9,000!
The G6120W-55 Western Custom Limited Edition is kinda like a model in-between the WCST and the DSW. It has nitrocellulose lacquer and VINTAGE DynaSonics among other things which the DSW doesn't have. Fuller's Vintage Guitar have them at $6.400 but I've seen them go for at around $2,400. Good value/money at that price. I've been told that only 12-15 have been made, but I of course have no way of verifying that.
The G6120DSW Chet Atkins Hollow Body from Gretsch's "regular" professional collection. Until recently this guitar was called G6120DSW Nashville Western (You can easily find it for around $1,400-1,800) but Gretsch struck a deal with the estate of Chet Atkins, so now there's a product range called Chet Atkins once again.
Find an inexpensive vintage fifties model (yes, such a thing does exists!) like the '55-'57 Streamliner or the '58- Anniversary (They both have the exact body as the 6120) and put an extra pickup on it and a Bigsby whammy bar if necessary (you can get both from new). That could be done for less than USD 1.500,- (Check out e-bay) and it would be a better sounding guitar than many much more expensive ones.
Of course there are many more Gretsch's out there - vintage and post-fender - with DeArmonds that'll do just fine and a lot of the FilterTron equipped ones are great too if you want that Setzer and Chet Atkins sound.
Now that Fender have taken over manufacturing I wouldn't worry about buying any of the new high end Gretsches.*
Last but not least I'd like to mention that the reissue Eddie Cochran models Gretsch 6120W-1957 Eddie Cochran and Eddie Cochran SIGNATURE Hollow Body or one of the latest Brian Setzer models would be interesting to many rockabillies. There's also a ridiculously expensive ($12.000 - $17.500 I've seen them advertised for) custom shop recreation, a so-called "relic" guitar, the G6120EC Eddie Cochran Tribute (Eddie Cochran did certainly not buy the guitar from new as the article/promotion says. He got it used from Gary Lambert who had it on loan while waiting for his new green Country Club) but you'd need a very good and possibly strange reason to buy that when there are perfectly good "cheap" alternatives.
Remember, if we're talking new Gretsches for rockabilly, go for ones with DeArmonds or TV Jones pickups. (There are different versions of the DeArmond out there but they all sound pretty good - for more on the DeArmonds go to the pickup section).
Gretsch Electromatic Collection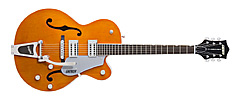 Gretsch G5120
Electromatic® Hollow Body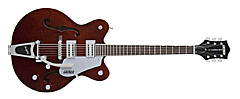 Gretsch G5122DC
Electromatic® Hollow Body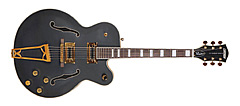 Gretsch G5191BK Tim Armstrong
"Signature" Electromatic® Hollow Body
Judging by the amount of mails I get about the Gretsch Electromatic Collection, these are popular guitars. They are not of high quality, but a little adjusting will always go a long way. The G5125, 5126, 5127, 5128 and 5129 (Out of production) have that original rockabilly tone because of the DeArmond 2000 pickups.
The 5120 (5120 in orange) has "Gretsch dual-coil pickups" which are neither this nor that. Many people buy 5120's and put TV Jones FilterTrons or just "regular" FilterTrons on. I don't think I would do that, seeing how little a used 6120 can cost you on eBay, but I see why they're doing it.
If you prefer double cutaway, then have a look at the G5122 Double Cutaway Electromatic in walnut or black finish. They come with the before mentioned "Gretsch chrome-covered Dual-Coil humbuckers" (NOT FilterTrons).
The reasonably priced G5191BK Tim Armstrong "Signature" Electromatic actually comes with real FilterTrons, and is in many ways an interesting option if you can afford about $400 more than a normal 5120. It's all it's own and not just a cheap version of a 6120 which is very cool. A friend of mine tried it hands on and said the build quality was fine. I wouldn't mind one myself actually. I would put on a Bigsby though. I have this obsession you know: No guitar of mine shall go Bigsby-less. That would add an extra $100, but of course you don't have to do it (If you have it in you)...:-)
A little word of "warning": The G5125's etc. are cool sounding guitars because of the DeArmonds, and if you've got one and like it but want to upgrade to get even more of that sound, think twice before you buy a 6120 with FilterTrons. A guy wrote me that he had done just that and gotten himself a Black Falcon w/FilterTrons and a dissapointment. FilterTrons are NOT DeArmonds, then don't sound anything like them. If you like the DeArmond sound on your G5125, only a 6120 with DeArmonds like the DSV or DSW will give you more of what you have already. A 6120 with FilterTrons is a totally different animal.
*If you're going to buy any of the pre-Fender reissue Gretsches expect to do some upgrading on them to get them up to todays standards. For instance there are often problems with the electronics.

1956 Duo Jet similar
to the one that
Cliff Gallup played.
Legendary Gretsch rockabilly sounds:
----- Everything Cliff Gallup recorded with Gene Vincent and The Blue Caps from May-June 1956
(rec. at Quonset hut studio, Nashville)
Cliff Gallup played a 1955 (Maybe '56) Gretsch 6128 Duo Jet (Black) with two DeArmond DynaSonic pickups through a Standel amplifier owned by Grady Martin. Also important for Cliff Gallup's sound was that he used heavy flatwound strings, a huge, triangular plectrum with his thumb and first finger, metal fingerpicks on his middle and ring fingers and kept the fixed Bigsby arm on the Gretsch (Many players replaced it with a swivel one). Also, the echo was added on the recording (to the WHOLE recording actually and not just the guitar) and not as a built-in effect on the amp.
Here are a few tabs for some of Cliff Gallup's famous solos
The Standel company of today are producing re-issues of their legendary amps. Reportedly, the basic 25L15 sounds good for rockabilly. Although the new Standels seem to have THE sound, they're not exact replicas of the originals.
Gretsch are making a replica similar to Gallup's Dou Jet today, called the Gretsch G6128T-DSV Duo Jet.
----- Half of the first Stray Cats album from 1981 (rec. Oct. 1980 at the Eden and Jam Studios, London)
Brian Setzer played his now famous 1959 6120 Chet Atkins Hollow Body through a Vox Royal Guardsman . Which half of the 12 songs we're talking about I don't know but I think it's safe to say that "Double Talking Baby" is among them, and that's why I choose to mention this particular set-up. The other half of the album was recorded using an American Fender Twin Reverb that had to go through a transformer seeing it was recorded in the UK. The Fender was way more distorted and it's safe to say the "Crawl Up And Die" and "Storm The Embassy" (Called "Boys Are Having Babies" :-) in his pre-Stray Cats days.) were recorded on the Twin.
Another fine but important point was that Dave Edmunds produced the album, and he used line-in recording a lot at the time. I remember plugging in my '55 Gretsch 6120 (with DeArmonds) direct to a 4-track tape cassette recorder (this was the eighties!), and going "Hey, this sounds just like 'Rock This Town'??" which was on one of the other tracks. I always thought that "Rock This Town" was recorded line-in after that, or at least a box was used to split the signal between the mixer and the amp.

Click to enlarge
One lucky guy... Based on the advice on this page C. Bottley of the U.K. got himself geared-up with a Gretsch 6120 Duane Eddy and a beautiful glossy Fender Bassmann '59 reissue. He also got himself a Boss DD-3. No need to say that he had to make other sacrifices to raise that kinda money. The last report still said he was a very happy guy though!
Gibson:
Carl Perkins played a 1952/53 Les Paul Goldtop on 'Honey Don't' and other of his early recordings. Scotty Moore always played Gibson's and so did Chuck Berry and anyone else who could afford them.
Many of the early Gibsons featured the now legendary P-90 pickup (comes in many different variations), which is the pickup with the most tone that I've ever heard. It also has a very naturally way of distorting and it can make your chords sound like a whole orchestra if you want it to.
High end models like the Super 400CES', L5CES' and Byrdlands from '55 to around '57 featured the "AlNiCo V" (Alnico five) P-90 pickup that Seth Lower and Walt Fuller designed in 1952 to find a new sound for Gibson. (The Les Paul Custom from '54 to mid-'57 had one Alnico V in the neck position and a regular P-90 in the bridge position).
Scotty Moore went from "regular" P-90's (on his ES-295) to "Alnico V" P-90's (on his L5 CESN and Super 400 CESN) in his days recording at Sun Studio with Elvis.
I've seen the "Alnico V" sound described as being "noticeably clearer and with greater separation between the treble and bass strings than a typical P90." To me, the "Alnico V" sound will always be that of "Mystery Train" by Elvis/Scotty Moore/Bill Black.
You can still get different vintage P-90 pickup's today from many manufactures. I use one with Alnico magnets from Seymour Duncan on my customized Ephiphone.
Gibson are also making the so-called "Alnico V" pick ups again today in connection with their Historic Collection and they are calling them the "480 Alnico V single coil". I've seen it featured on the 1954 Les Paul Custom (reissue) in the rhythm position together with a "regular" P-90 in the treble position.
Seymour Duncan's Custom shop is also offering the great sounding so-called Staple Pickup at $225 that is a re-issue "Alnico V". Check out my guitar with the Scotty Moore sound.
Legendary Gibson rockabilly sounds:
----- "Mystery Train" by Elvis Presley (rec. July 1955 at Sun Studio, Memphis)
Scotty Moore played a 1954 Gibson L5 CESN with two "Alnico V" P-90 pickups (sounding more like a Dearmond DynaSonic than a "regular" P-90) strung with Gretsch medium-gauge flatwounds through a custom-built EchoSonic amplifier by Ray Butts (8th amp ever built). The amp had a built-in tapeecho (hence the name EchoSonic) which was special in the way that it allowed Scotty Moore to perform live with the slapback echo from the recordings that was his and Elvis' trademark sound at the time.
EchoSonic amps have a fixed delay time which has proved to be perfect for rockabilly.
Read more about Scotty Moore's EchoSonic.
On the other Elvis recordings at Sun - before "Mystery Train" - like on "That's All Right Mama" / "Blue Moon Of Kentucky" Scotty Moore played a 1953 Gibson ES 295 (ES stands for electro-Spanish) with P-90's strung with medium-gauge roundwounds through a 1952 Fender Deluxe amp.
Other people who played and owned one of the circa 68 EchoSonics ever built were Chet Atkins, Carl Perkins (as you can see below), Roy Orbison and Luther Perkins (You can hear him using it on "Straight A's In Love" with Johnny Cash). Ray Butts traded the last one along with the rights to build them to F.C. Hall of Rickenbacker. His company sold small quantities of this amp around 1961, under the name Eko-Sound.
EchoSonic resource
Guitarist Tim Masters of Midnight Bowlers League and owner of an original EchoSonic, offers to build you an EchoSonic replica. This is done on a case by case basis like Ray Butts did. He also offers expert repair of EchoSonics and Rickenbacker E-k-O Sound amps.
If you're interested, you can
drop him a line.
----- "Rock Around the Clock" by Bill Haley and the Comets (rec. 12th April 1954 at the Pythian Temple, New York City).
Session musician Danny Cedrone played a 1946 Gibson ES-300 with one P-90 pickup through a Gibson BR-1 Amp. The magnificent reverb on the recording, comes from the former ballroom itself, where the recording took place.
Read the whole article on the Rock Around the Clock session here and download the guitar tab for the solo.
----- "Maybellene" by Chuck Berry (rec. 1955 at Chess Records, Chicago)
Chuck Berry played a 1955 Gibson ES 350T (blonde) with two P-90 Pickups through a small Fender Amp. The guitar that Chuck Berry is more commonly associated with is the thinner, double cutaway ES 335 introduced in 1958 and the 355 (The 355 is essentially a fancy version of the 335). These guitars are similar to B.B.King's "Lucille".

1955 Gibson
Les Paul
GoldTop
w/Bigsby.
----- "Blue Suede Shoes" and "Honey Don't" by Carl Perkins (rec. Dec. 1955 at Sun Studio, Memphis)
Carl Perkins played a '52/'53 Gibson Les Paul Gold Top with two P-90 Pickups and a "trapeze" tailpiece through a small Fender Amp when he recorded "Honey Don't" with "The Perkins Brothers Band" (Carl + his two brothers on upright bass and rhythm guitar + W.S.Holland on drums).
The general understanding is that "Honey Don't" and "Blue Suede Shoes" were recorded at the same session. In fact he recorded "Honey Don't" first, several weeks prior to the "Blue Suede Shoes" session.
The guitar that Carl played on "Blue Suede Shoes" is also a Les Paul Gold Top but a '55 with a Bigsby. After "Blue Suede Shoes" became a hit, Carl painted the guitar blue and later his youngest son Greg Perkins painted it black. It's currently in Stan Perkin's vault in Jackson, TN.
Read the whole article on Carl Perkins' gear here.

Fender:
Not really my kinda guitar (not hollow bodies, ya know) but I've heard some great stuff played on them by Paul Burlison , Danny Gatton , Jimmy & Stevie Ray Vaughan, Carl Perkins, Mickey Gee (Did some great underrated stuff for Shakin' Stevens who had a dynamite band, even though I always missed the slap bass...) and Albert Lee to name a few. Maybe someday I'll stumble across one that fits my hands and I'll be all over it.
The great thing about Fender Stratocasters and Telecasters is that they have single-coil pickup's that'll cut through any backing band. - and that's what rockabilly guitar is all about - isn't it? =:-)
The Fender Stratocaster hasn't changed much from the original design to this day, as you can see from this picture of Strat serial number 0100 (Probably the first Stratocaster inted for retail sale).
Legendary Fender rockabilly sounds:
----- "I Walk The Line" by Johnny Cash (rec. April 2, 1956 at Sun Studio, Memphis)
Luther Perkins played a 1955 Fender Esquire through a Fender Champ amp.
----- "Tear It up" and "Oh Baby Babe" by the Rock 'n' Roll Trio (rec. May 7, 1956 at the Pythian Temple, New York)
Paul Burlison played a whiteguard Fender Esquire through a tweed Fender Deluxe amp sitting on a stool next to him.
Did you know that Grady Martin (and not Paul Burlison) played lead guitar on the most famous recordings by Johnny Burnette & The Rock'n'Roll Trio? Do you want to know how the distortion on "The Train Kept A-Rollin'" and "Honey Hush" was probably created? Then read my article on Johnny Burnette & The Rock'n'Roll Trio
---
Buddy Holly played a big part in making the Fender Stratocaster popular as he was one of the first rock 'n' rollers to use it on TV. He apparently left his Stratocasters set up the way they came from the factory, and didn't use the tremolo arm, leaving all five springs on the tremolo plate.
In case you were wondering: It IS Buddy Holly himself who is playing the famous lead guitar on "That'll Be The Day". He used a capo to play the licks in the key of A.
Live and on record he used different Fender amps. Pro Amp, Bassmann and was given a Twin by Fender.
Here you can read more about Buddy Holly's gear. If you looking for information on Buddy Holly's recordings and lyrics, Buddy Holly - The complete works is the ultimate website.
Buddy Holly's last Fender Stratocaster.
1958 Sunburst, serial # 028228.
On display at The Buddy Holly Gallery,
Lubbock, TX.
Buddy Holly live on stage.
From the collection of the Rock
and Roll Hall of Fame
and Museum
Buddy Holly with The Crickets
Photo courtesy of Terry R. Shaw.
The Buddy Holly Story by Terry R. Shaw