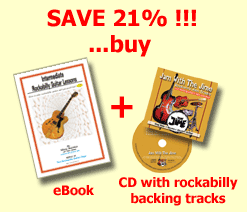 Listen to the rockabilly
backing tracks...
---
Buy
CD
+ eBook
for ONLY $34.00
or £18.85 or €24.85
(+ shipping)
Buy now!
"I've purchased several rockabilly books in music stores and some DVDs I've ordered online thru sites like amazon.com and your eBook puts them all to shame. Your book would do great on the shelves at music stores."
T. Marvin Hunt, Springfield, USA
---
"Purchased your new book over the weekend. Loving it. Great product, in depth, informative and most important; accessible. Fantastic value for money."
Paul Thompson, Tamworth, UK
---
"I'm glad you're explaining the "nuts & bolts" of how "Rockabilly" guitar playing is played rather than showing the songs transcribed. I know there are the "Rockabilly licks" that are needed but you're showing what you need to know (foundation-scale/chords, music/artist influences) to play this music."
Rey Alva, Huntington Park, CA, USA
---- Buy NOW!
"I just checked out the Intermediate eBook, and it looks great! I saw a lot of music theory in there, and as always, it looks like you explained it very clearly and got "to the point", which is what I like about your series of eBooks. I can't wait to get home and start playing! Learning the riffs is my favorite part, and you included some of the ones I've been trying to "reverse-engineer" on my own for a while now. Thanks again!"
Javier Arias, California, USA
---
"the new Ebook looks excellent and the Rockabilly Beat CD is terrific.. lots of great music and guitar playing.. i'm also impressed with your piano blues. Thanks again for the inspiration and sharing of knowledge.. much appreciated. I am also glad that you include music theory with your lessons. It really helps to understand the ideas and music with more depth."
A. Wileski, New York, USA
---- Buy NOW!
"I got a new Epiphone ES-295 from Germany and because of that, I've been doing more reading and experiments with your books. Absolutety stunning material! As I already guessed - both of the books have material that I already know, but also material that I don't know. If I compare your books to The Guitar Handbook that I have... I see that I'm learning much faster from your book, because it is much more fun to read (examples, ideas, backgrounds...). That Guitar Handbook is translated to Finnish, but it is so theoretical (which I don't like) and there is so much stuff, that I feel I'm drowning in information. Your book also has theory in it but you have hidden it very well - I don't feel that I'm studying from school books. That's why I like your point of view more. Thanks again for writing these books!"
Petri Niemenmaa, Espoo, Finland
---
"I've just received your new rockabilly ebook + cd and jam with the jime. I must say that your ebooks (i have both the beginner and now the intemediate book) are super great!! I havent played guitar for long (about 6 months) and you books really helped my playing, and general rockabilly tone. They are straight forward and easy to use and right from the start i felt i was going somewhere. While there are loads of blues rock and jazz books around, a good rockabilly book is really hard to find. The cds are also awesome."
Anders Frederiksen, Denmark
---- Buy NOW!
"The books are brilliant by the way. No fussin, straight to the point, I've learned more about rockabilly guitar in a week than I have in years of reading other stuff. great job. When do you expect to have the third book finished?"
Mark Finch, Lancashire, UK
---
"Thank you for bringing book two out. I'm sounding better already. The first book filled gaps in my playing and this one even more so and the scales are useful also. My Travis picking has improved also. Thanks yet again you are a godsend. I'm sounding like my heroes at last."
Gaz T, Yorkshire, UK