"Got to say that the e-book and CD ("Jam With The Jime") are ACES!
Got the a-form moving around nicely and it's really given me a great starting point into a Rockin style. Really enjoying it. Very simple, very effective.
Great that it gives you all the tools to improvise within the genre without just recanting 'rock this town'".
Jonathan Scull, London, England.
----
"I just wanted to take the opportunity to let you know that this is the best and most useful guitar instruction book I have ever bought. Thanks a million for such a great resource. I am starting to play like I have always wanted to. "
Scott McDonald, Dallas, Texas, USA.
----
"WOW I just wanted to say thanks for such a great e-book, Vince!
When it comes to rockabilly there isn't much in the way of learning materials and your e-book fills the bill nicely, I would love to see a more advanced part 2 someday!
I've been playing guitar on and off for 15 years and learned plenty from your book in the few days I've had it. I feel like a have some good building blocks now, the chord shapes you show are great. and I was able to recognize alot of what you talked about instantly in some guitar tabs I am working with. before your book it looked confusing but now I can see the patterns and chord shapes "hiding" in the tabs."
Jason Inman, Palm Springs, California, USA
----
"I bought your e-book because I figured you would break rockabilly guitar playing down just like you did with the equipment choices. I couldn't have been happier. I hope that in the future you make more books in the same style as the first."
Brian Brenzel, California, USA.
---- Buy NOW!
"Just wanted to say thanks for these fine guitar learning tools. I really like the way that you give a whole bundle of chords, scales and riffs that all plug in to the same basic formula, but which are also diverse enough provide for more or less endless combination and recombination (as they are learned and incorporated). The jamming disc just turned up in the post today and I've had a great time for the last 20 minutes, mainly just clanging along with a few basic chords, trying to follow the pattern and keep with the changes. I can see it is going to be a little while before I'm blending riffs and runs from scales into the mix with any real success, but the whole way the package is set up really does invite a person to begin experimenting with improvisations right away: rockabilly fun from day one!"
Dave Littlewood, Lancaster, UK
----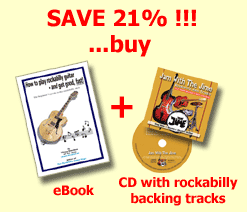 Listen to the rockabilly
backing tracks...
---
Buy
CD
+ eBook
for ONLY $29.95
or £17.95 or €24.25
(+ shipping)
Buy now!
"Great book! Love the licks and pointers. I just learned more about playing rockabilly in a couple hours than I've learned over the years on my own."
Steve T., Boston, USA.
---- Buy NOW!
"I am having a blast with this instructional book. I started relearning to read music (it's been a very long time) and this book of yours is very helpful in moving me fast forward to where I can start improvising simple leads."
Paul Camarinha, Elizabeth, New Jersey, USA.
----
"Thanks for getting the cd ("Jam With The Jime") off to me so quickly, it´ll be a great help. And a big thanks for making learning to play rockabilly, easier and fun. The Beginners guide got me playing the sounds I wanted to play, pretty much straight away. If you're just starting playing rockabilly, there doesn't seem to be much help out there! Many, thanks, Having a lotta fun."
Carl Weber, West Yorkshire, UK.
---- Buy NOW!
"I received the e-book and it's awesome!!! It has been a great help and I'm already playing along with the backing CD ("Jam With The Jime"). Please feel free to quote me in any and all reviews. This is the best breakdown on how to play rockabilly music I've ever come across. I tried lessons online and with a guitar teacher who was great at everything bar rockabilly and rock'n'roll. Your book has me playing in a style I want to play in.
Many many thanks."
Rob Morley, Gloucestershire, UK.
----
"As a newcomer to learning the guitar and having an appetite for rockabilly, I wasn't disappointed when I received my ebook. It allowed me to get straight to the good bits. How often do you buy a book and then find it's not what you expected, but not this time. This baby is what I have been looking for. Something that shows me how to play those riffs you see on stage without having to go to college to learn them. To compliment the ebook it came with an audio file showing me how the riffs should sound. I have one word to describe this; AWESOME."
Chris Bottley, London, England.
---- Buy NOW!
"Thanks for making rockabilly guitar more easily available for others to learn. I'm a 16 year-old beginning guitarist and I love rockabilly. Unfortunately there are no other guitarists near me that know anything about how to play it. Your website and book are the most informative resources I've come across concerning rockabilly. I bought your book Saturday and I've already learned more from it then I have from any other guitar book, video, or CD that I have. (Sending out the mp3 recordings of the riffs has made it even easier to understand.) Thanks again! You've helped me a lot in finding where to begin."
Luke Bauserman, Ohio, USA.
----
"I finished the rockabilly guitar manual last night. The way it was presented really helped me see the simplicity of the 6th, 7th, 9th and 13th chords. I've been struggling with finding them, but I see now how they can easily be identified once the majors are learned. Also, the ghosting effect on the tab scales hit me too. Dah, play it over and over again... Sometimes it takes just the littlest things to make me understand a concept.
Your explanation of sliding up or down based on 12 frets really makes sense too! I don't know why I didn't see that before. I'm getting it faster now.
So, I'll be practicing, listening and understanding more. It really helped me. Thanks for breaking it down."
Jeff Turner, San Francisco, USA.
---- Buy NOW!
"I have spent an hour with this book and I am sounding great already.
My friends always say 'everything you play sounds like Jazz', finally I know why!!!!!
I am loving it!!!!!"
Billy Jones, Surrey, England.
----
"I like the book. It takes a lot of the mystery out of what's going on with the rockabilly style."
Richard Albino, New York, USA.
---- Buy NOW!
"I started using the moveable A shape on the 5th fret and it's drastically changed my playing. Once you get the notes worked out to pick around this shape you can play it just about anywhere on the neck. The book really did get me to work on my technique and stop sticking to the same three chords! Thanks!"
Nigel J., London, England.
----
"I have been working through your Rockabilly guitar book and have found it very useful. I love the mp3 file of licks. Great for practicing. I can't wait to get my backing track CD ("Jam With The Jime") and start jamming. I've been playing since I was 14. I am 46 and I still love good instruction material like your book that helps me remember all the stuff I have forgotten over 32 years."
Glenn Anderson, Frisco, Texas USA.
---- Buy NOW!
"Just thought I would let you know that I received the jam along CD OK ("Jam With The Jime") and have been putting it and the e-book to good use. I wont pretend to be anywhere near a level where I can claim to be the new king of Rockabilly, but I certainly sound closer than I did before after I read your excellent teaching book."
Gary Blundell, West Sussex, UK.